TIMESSURABAYA, PROBOLINGGO – Lailul Marom, a 26-year millennial generation from Probolinggo, along with his two partners, Rohman and Khunin, is the pioneer of snorkeling destination in Gili Ketapang, which is located in Sumberasih sub-district, Probolinggo, East Java.
Gili Ketapang Island has been popular among the tourists since 2015. The island used to be a crowded village, but it has turned into a famous snorkeling destination since 2015.
Currently, there are 18 tourism organizer groups in this island. Each of the group consists of 5 to 20 people, which are the locals of Gili Ketapang Island. They make a living from snorkeling tourism.
If you look up 'Gili Ketapang' on the Internet, you will find anything about snorkeling, reefs, Nemo, culinary, and other splendors of Gili Ketapang.
Thanks to Lailul Marom and his partners, Rohim and Khunin, the youths from Gili Ketapang Village, who are the pioneers of snorkeling tourism in this island.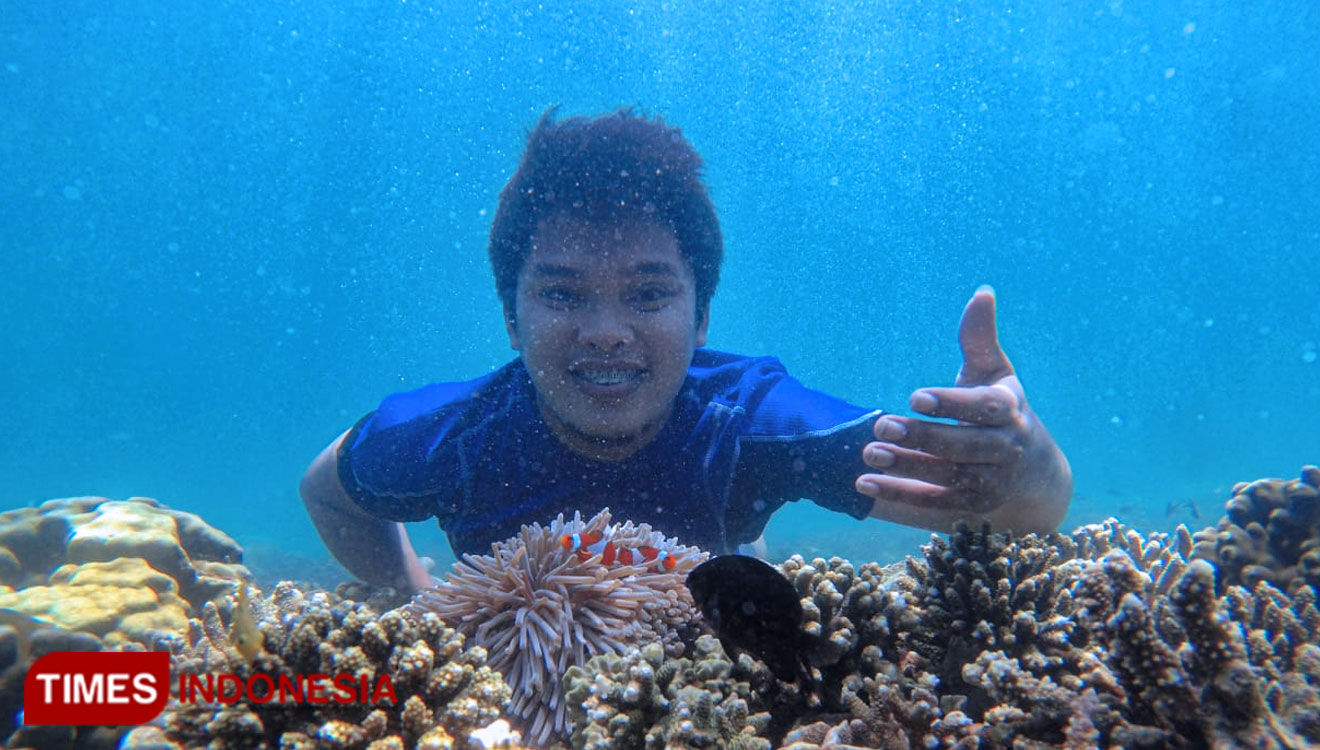 After he graduated from the Faculty of Economy in Universitas Gajah Mada (UGM) in 2015, he promised to get back to his home.
Then, he was eager to develop a tourism business in his hometown.
Thanks to the snorkeling tourism that he has developed. It helps the locals to maintain the environment. Since the establishment of this tourism business, the locals no longer mine the reefs and sand to make them as building materials. Instead, the reefs and the sand are protected.
According to Marom, when he was starting an open trip to snorkeling tourism in Gili Ketapang in 2015, he used Instagram and other social media to promote this snorkeling destination.
Their effort made a great result. Four months after the open trip, the snorkeling tourism in Gili Ketapang had been famous among the tourists. A lot of them coming into this tourism destination. "We predicted this snorkeling tourism would be famous after two years,"
In April 2016, Marom and his partners created an Instagram account @giliketapang and a website www.giliketapang.co.id to promote this snorkeling tourism.
This snorkeling tourism used to be rejected by the locals. Besides, Marom's parents also did not want their son to work in the beach, instead of the office.
However, the locals began to have a different perspective. In fact, this snorkeling tourism becomes a great blessing for Marom, the other organizers, and the locals.
They built various facilities, such as bathrooms, prayer rooms, food stalls, and boats.
The story of Marom in establishing this snorkeling destination had captured the attention of the Regent of Probolinggo, P. Tantriana Sari. In 2016, Marom was invited into the office of Probolinggo Government in Kraksaan. He was given an award.
Related to the Day of the Heroes in 2019, Lailul Marom wrote his own quote in a WhatsApp message, "Heroes are those who prioritize other people's life other than their own life." (*)
Baca Berita Peristiwa dan Politik terbaru di Indonesia dan luar negeri lainnya hanya di TIMES Indonesia.